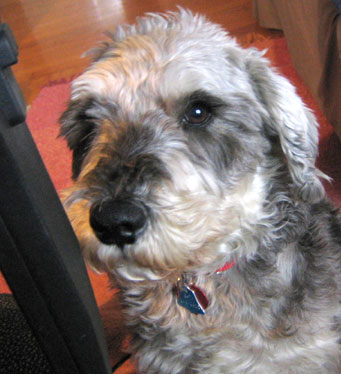 Meet Hobie, the miniature schnauzer we are fostering. He's five-and-a-half with the energy of a puppy. He loves to play fetch and he can play keep-away as well. Ask Kris how strong Hobie's jaws are.
He gets uber excited before we go for a walk. When he hears the closet door opening, the spinning begins. He does not know what settle down means. He will jump and spin while we attach his leash. It is
hilarious to see. We practically fly down the stairs when we leave the apartment.
Hobie is a great investigator, but he's still skittish when meeting bigger dogs. We met our first big dog yeterday, which caused him to bark and lunge at the other dog. As the other owner and I chatted, Hobie reached up to my leg, looking at me as if he was saying, "Ok, I've said hello, I'm bored. Can we go now?"He also whimpers when he sees a large group of girls, as we encoutered last night.
But he also protective. He growled at a man taking out the trash last night. I scolded the dog,
and the man said I should not do that, since the dog was protecting me. I just don't want him growling at every person we see while on an evening stroll.
He's becoming more comfortable being left alone. I was able to do several loads of laundry without hearing him bark. I find myself talking to him as if he were a real person, telling him to be good, that I will
return. And he looks at me as if he understands. Hobie is a cool dog. He follows us around the apartment. He waits patiently when I'm in the bathroom. He joins me in the kitchen when I make breakfast. And he sprawls on the rug while I read the paper. Hehe.
My mom and brother tell me it is training for a kid. Not quite, but almost. At least a dog stays little. And they don't cry.We've had him for five days and Hobie is a sweetie. It will be tough to let him go once an adoptive home is found for him, but it is great that our first foster dog is so neat.