It would be nice to be able to talk about Hobie's dog friends. Unfortunately, Hobie is a little short on dog friends now. That's mostly on account of him not being very interested in other dogs.
Instead, we'll mention other dogs we like, and dogs we think Hobie should be friends with.
First up is Rudolf. He is a 10-year-old Miniature Schnauzer.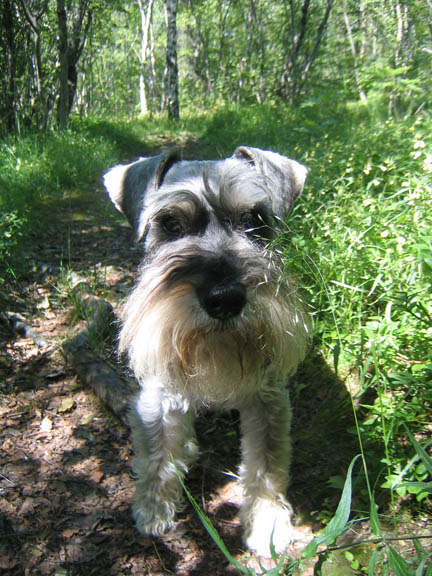 Rudolf is my family's dog back home. This picture of him is in a forrest near my family's old house. Rudolf is crazy about food, and does not care about toys or playing. A total opposite of Hobie.
Right now, Rudolf has some back problems. One of the discs in his spine is not alligned. The vet has said there's nothing that can be done, and Rudolf gets pain medication when it gets bad.
He's a very sweet dog, and enjoys laying in someone's lap watching TV.
I think Rudolf and Hobie would get along well, mostly because they wouldn't get in each other's way. Hobie would be playing with toys, while Rudolf would just lay in someone's lap.