Hobie checked out his new neighborhood the other day, and there is a dog park literally across the street from our new apartment.
It's not the greatest dog park, and it's very industrial. The dog park is a large rectangle, but wide enough that we can play fetch without worrying about the ball landing outside the park.
One one side of the park is a street, and on the other side is a container terminal. We could actually see containers being shuffled back and forth.
The park is quite large, but it's not a park we would go to unless it was right nearby.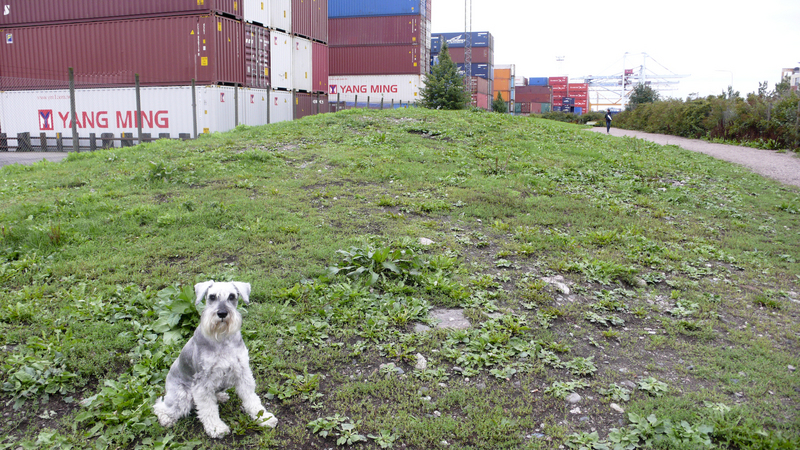 There are a couple of benches in the park, and while there is a path along one of the long sides, most of it is covered in dirt and grass. Hobie will surely need a bath after playing here on a rainy fall afternoon.
The park was empty when we first entered, so we took out the frisbee.
Hobie has gotten a wart-like growth next to one of his teeth. The vet in Norway said it was nothing to worry about, and that we could just deal with it the next time he was under anesthesia. One side effect is that he will sometimes bleed a little bit, but he doesn't seem to be in any discomfort.
Despite this, he ran as fast as his four little legs could carry him to play with his toy.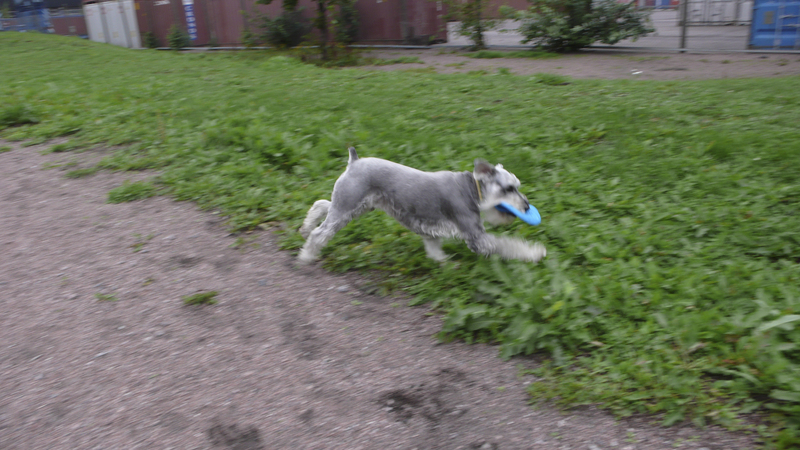 Despite that industrial setting, Hobie approved of the park. In fact, there seemed to be so much to smell that he was too busy to look at the camera.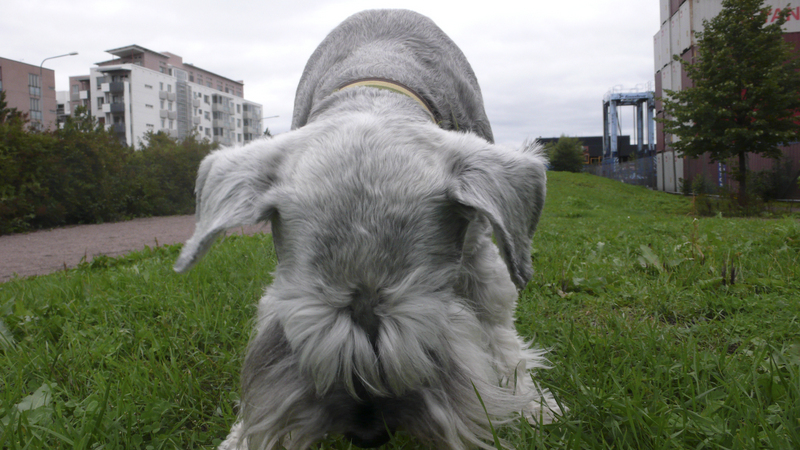 After playing for a little bit, another dog came into the park. Poola, a labradoodle. She was only two, but because she was already now much larger than Hobie, they seemed to get along fine. He growled a little bit, but for the most part they were satisfied sniffing each other's butts.
She jumped around and barked at Hobie a few times, and he whined and ran around us, but it helped that we were chatting with the owner, and Hobie had to deal with this strange new creature by himself.