Hobie has been afraid of umbrellas for as long as we've had him.
We thought that maybe his fear had eased up while he was in Norway. Oh, no.
On a walk this morning, it started raining, and we took out an umbrella. Hobie instantly stopped, his tail as far between his legs as it could go (considering it's docked), and he did not want to keep walking.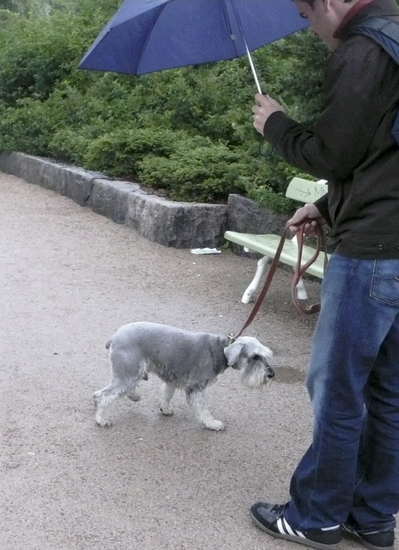 Eventually, we got him to walk between us, with the umbrella partially covering all of us, but Hobie was an unhappy dog until he noticed the hotel a few steps away. Then he walked as fast as he could to get inside.
We had to hurry up the elevator, because we know that Hobie likes to dry off his back and face on carpet. He enjoys rolling around on his back while wet. While this looks funny, I'm not sure that the other hotel guests would enjoy a dog rolling around on the floor. Not to mention that it's probably not that clean.